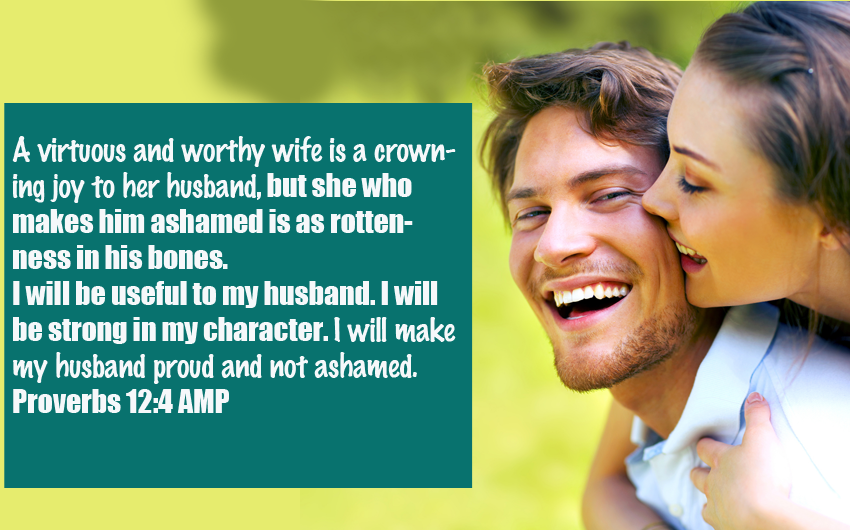 Forsake her not, and she shall preserve thee: love her, and she shall keep thee. I will never forsake my wife. I will love her always because loving her makes a big difference in how she treats and attend to me. I will not leave my wife alone by spending long hours at work or in church staying busy instead of tending to her needs and emotions. I will be romantic and take good care of her. I know that by being close to my wife it will energise her. I declare that I will be forever close to my wife. I will be attentive and attractive always and not just in times I need sexual pleasures. I will make her feel close to me, so we can engage as a unit and team together to overcome our adversities. My wife is motivated by my love and loyalty, so I will never take as insecurities for granted. I will make her feel secure in me and the marriage. I will appreciate and love my wife all the days of my life.
Proverbs 4:6
Let your fountain [of human life] be blessed [with the rewards of fidelity] and rejoice in the wife of your youth. I rejoice in my wife because she is worthy and a gift from God.
Proverbs 5:18 AMP

My wife is like a fruitful vine in the innermost part of my house; my children are like olive plants round about my table. My fountain of human life is blessed with the rewards of fidelity and I will continually rejoice in my wife, for she is the wife of my youth.
Psalm 128:3, Proverbs 5:18

He who finds a wife finds a good thing and obtains favour from God. I have found a true wife and God favour is my heritage. The favour, I command you now to find me in every aspect of my life; at home and in work; in my going out and coming in; in the works of my hands and the words of my mouth. I command you favour to take over my life in the name of Jesus.
Proverbs 18:22

House and riches are the inheritance from fathers, but a wise, understanding and prudent wife like my wife is from the Lord. My Lord and my God, I thank you for giving to me a wonderful, understanding, wise and prudent wife. I will receive help from her well of wisdom for I am most favoured. Father, I honour you for your kindest gesture of a complete wife given to me. Also, thank you for giving me the resources, love and honesty with inspiration and substance in taking care of my wife and our children.
Proverbs 19:14; Ephesians 5:25-27

I will be joyful with my wife since she is the one I love all the days of my life. I will work for her and never make her be ashamed for I am the master and the master is the servant.
Ecclesiastes 9:9; Hosea 12:12

My lovely wife is fair, there is no spot in her. Many waters cannot quench love; neither can the floods drown it. I will deal with every opposition in our marriage with love because the greatest is love and nothing can conquer nor overcome love, for with love we are both more than conquerors.
Song of Solomon 4:7; Song of Solomon 8:7; 1 Corinthians 13:13

I have given to my wife, her conjugal rights, goodwill, kindness and what is due to her as my wife and helpmeet. I cannot refuse or deprive my wife of her due marital rights. I am bonded with my wife and I do not seek to be FREE from this bond. I am subject to my wife even as she is subject to me as we worship Christ our Lord.
1 Corinthians 7:3, 5 and 27; Ephesians 5:21

I love my wife just as Christ loved the Church and I am willing to give up my life for her so that I can sanctify her, cleansed her by the washing of water with the word and present her back to myself in glorious splendour, without spot or wrinkle or any such things that she might be holy and faultless.
Ephesians 5:25-27

I love my wife as being in a sense my own body. Since I love her it means that I love my body. She is my flesh, so I will nourish her continuously and carefully protect and cherish her. It is my responsibility to make her look and feel good. I will work with her to make her feel and look good.
Ephesians 5:28, 29

I am a minister of the gospel of Christ Jesus and I give no grounds for accusation. I am a husband of one wife. I am circumspect and temperate and self-controlled, I am sensible and well behaved and dignified and I am leading an orderly life. I am sociable, hospitable, a capable and quality leader. I have and keep a good reputation and I am faithful to my marriage. I am sensible, well-behaved, friendly to strangers, and able to teach. I am sensible, well-behaved, and friendly to my wife.
1 Timothy 3:2

I will live with my wife with the intelligent recognition of our marriage relationship. I will honour her as physically the weakest among both of us, but I will also realise that we are joint heirs in order that our prayers may not be hindered and cut off.
1 Peter 3:7

I hold my marriage to my wife in honour-esteemed worthy, precious of great price and especially dear in all things. My marriage bed is kept with honour. I honour marriage bed with respect, love, and dignity.
Hebrews 13:4

Father, you supply all our needs according to your riches in Christ Jesus. I am amazed that you care about us enough to meet our daily concerns and to notice every detail of our lives. Even the hairs of our heads are numbered. You give attention to every detail of our life and you take care of your children.
Philippians 4:19; Matthew 7:11, 10:30

I confess that I sometimes think of myself as being the one who takes care of my wife and children. Forgive me for taking to myself what truly belongs to you. My wife's help comes from you. If she depends on me, I know I will disappoint her. But you never fail, and you make her like a garden that always has enough water. You are always faithful, always enough. Help her to know that you are all she needs.
Psalm 121:2; Lamentations 3:22; Isaiah 58:11; John 14:8–9

If she is tempted to look for comfort in something else, may she instead realise how the power of your Holy Spirit allows her to overflow with hope and peace. Nothing on this earth compares to the greatness of knowing you.
Romans 15:13; Philippians 3:8

Dear Lord, you are a shield around us. You protect us from the enemy who seeks to destroy us, and you will not let us be put to shame. Your arm is mighty, and your word is powerful.
Psalm 3:3, 12:7, 25:20; Exodus 15:9; Luke 1:51; Hebrews 1:3

When the enemy attacks my wife, let her faith in you protect her so that she may stand her ground. Bring your word to her mind so that she may turn aside the assaults and fight the good fight. Help her to remember that you give us the victory through Christ.
Ephesians 6:10–18; 1 Timothy 6:12; 1 Corinthians 15:57

You have conquered and disarmed the spiritual powers, and everything is in complete submission to you. Because of the cross, my wife is a new creation, and nothing can separate her from your amazing, unfailing love.
Colossians 2:15; 1 Peter 3:22; 2 Corinthians 5:17; Romans 8:38–39

The enemy is defeated. You have crushed his head.
Genesis 3:15

Father, you loved us first—so much so that you sent your son to take our place. How incredible it is to think that while we were sinners, Christ died for us. Nothing we do could ever compare to the riches of your grace.
1 John 4:19; John 3:16; Romans 5:8; Ephesians 2:7

Help my wife to grow first in her love for you. May she be increasingly in awe of your power, beauty, and grace. May she know more each day about the depth and width of your love and respond with increasing love of her own.
Psalm 27:4; Ephesians 3:18

Help her to love me through all my failures while I learn to love her as Christ loves the church. May we see each other as you see us, and may we enjoy fulfilling each other's desires in our marriage.
Ephesians 5:25; 1 Corinthians 7:2–4

Please give her a growing love for others in all that she does. Show her how to be Christ's ambassador in the world and to be a woman defined by love so that others may glorify you. Because of that love, may she share the gospel with everyone.
2 Corinthians 5:20; Matthew 5:16; 1 Thessalonians 2:8

Father, I come boldly before your throne of grace to lift my wife before you in prayer. Thank you, Lord, for blessing me with a good woman; a woman full of the Holy Ghost and faith. A woman who loves you with all her heart, soul, strength, and might; a woman who seeks to know you more and more each day; a woman rooted and grounded in the Kingdom of God and dedicated to pleasing you in every area of her life - spirit, soul, and body. She is first faithful to you, and afterwards faithful to me and her family.

Father, I proclaim that my wife is a virtuous woman of God who rises early in the morning to seek your face on behalf of her family. I pray that you would keep her heart and allow nothing to come between us or separate her love from you or her family. Bless her in every aspect of her life Lord and show her daily how to honour you in her attitude and spirit.

Father, I declare that my wife is a woman of virtue and that her price is far above rubies. My heart does safely trust in her, and she shall do me good and not evil all the days of her life. Strength and honour are her clothing, and she shall rejoice in times to come. She opens her mouth with wisdom, and in her tongue is the law of kindness. Our children and I rise and call her blessed. She meditates on your word day and night and sees to do all that is written in your word. She shall, therefore, have good success in all she does, for you Lord, shall make her way prosperous.

Help me, Father, to be a good husband to my wife. Help me to comfort her, protect her, encourage her, support her, and respect her. Help me to always be caring and attentive to her, and to be the man she needs me to be, in the name of Jesus. Help me to be sensitive to her concerns and to support her as I ought to do. Enable me to listen to her heart, and to always be courteous, thoughtful, and encouraging her. Help me to protect her and defend her against all harm or insult. Give me the will and energy to share my heart and thoughts with her, knowing that she always has my best interest at heart and that she will always give me godly counsel. Help me to be kind, appreciative, and loving toward her, and to create a home environment that is peaceful, fun, and enjoyable.

Thank you, my Lord and Father, for surrounding my wife with godly individuals who are stepping stones to her becoming a better wife, mother, sister, daughter, and a servant. Thank you for helping her to develop strong relationships with other godly women who will provoke her to grow to higher levels in Christ Jesus. She shall prove all things and hold Fast to that which is good.
Separate my wife from all ungodly influences, pressures, and manipulation; both inside and outside of the church. I now release the fire of God to burn out all ungodly ties and connections with any former relationships; whether spiritual, mental, emotional, physical, or carnal. I take authority over her thought life, and I bind all spirits of hurt, rejection, fear, anger, depression, discouragement, oppression, insecurity, and unforgiveness, in the name of Jesus.

Father, make me my wife's helpmeet and soulmate for life. Help her to know how much I love her. Help her to know that I am her companion, supporter, defender, lover, and friend. I shall cover her daily with my prayers. Teach me, Father, how to take good care of myself and stay attractive to my wife. Help me to never take her for granted, nor neglect her in any way. Help me to avail myself of her spiritually, emotionally, and physically. Grow me into a strong, loving, caring, and affectionate man that she can be proud to call her husband. I shall love my wife as Christ loves the church and gave himself for it. I shall dwell with her according to knowledge, giving honour to her, as unto the weaker vessel, and as being heirs together of the grace of life; that our prayers be not hindered.
Father, thank you for a wife you gave me as a precious gift. I shall love her, lead her, support her, encourage her, fulfil her, and enjoy her all the days of my life, and we shall dwell together in love and unity, and live a long, happy, healthy, prosperous, safe, and godly life together. In Jesus' name. Amen.