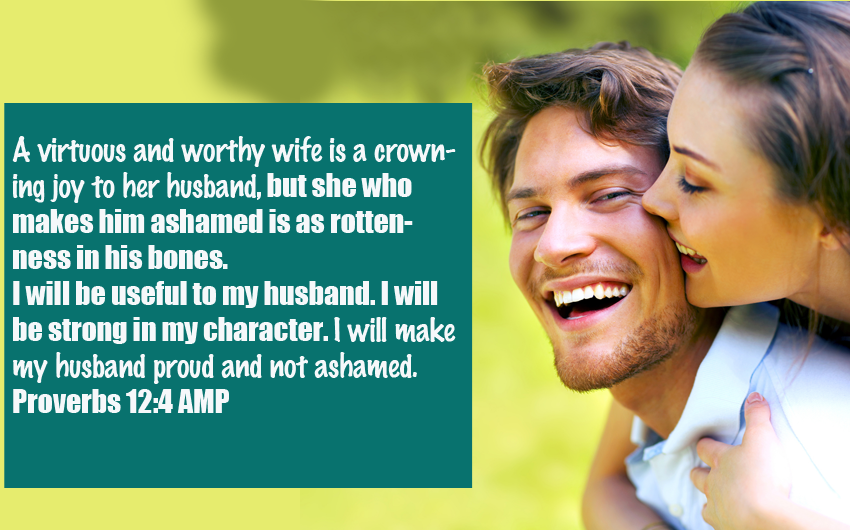 A virtuous and worthy wife [earnest and strong in character] is a crowning joy to her husband, but she who makes him ashamed is as rottenness in his bones. I will be useful to my husband. I will be strong in my character. I will make my husband proud and not ashamed.
Proverbs 12:4 AMP

The heart of my husband trusts in me confidently and relies on and believes in me securely so that he has no lack of [honest] gain or need of [dishonest] spoil. My husband depends on me and he will never be poor, I will never let him down. I am comforted, encourage, and I am good to my husband every day of my life.
Proverbs 31:11, 12 AMP

My children rise up and call me blessed (happy, fortunate, and to be envied); and my husband boasts of and praises me, [saying], I excel the many daughters that have done virtuously, nobly, and well with the strength of character that is steadfast in goodness. My husband said there are many good women, but I am the best. I will continue to support my husband and my family in all my ways.
Psalm 31:28 AMP

My husband will not deprive me his wife of sexual intimacy no matter the circumstance and I too will not deprive him of sexual intimacy. We will learn together the best ways to satisfy each other sexually. I will give my husband what he deserves as a husband.
1 Corinthians 7:3

1 Corinthians 7:10 says "A wife should not leave her husband." What God has joined together not even hardship, poverty or lack can put asunder so today I declare that my husband will be lifted financially and favoured in all dimension because I am a carrier of divine favour and he is a partaker of this favour.
1 Corinthians 7:10, Proverbs 18:22

For the husband is the head of the wife, even as Christ is the head of the church: and he is the saviour of the body. I will submit to my head because he is my saviour. I will respect and honour him. I will love and cherish him. I will be kind and patient towards him. I will support him to be the best that he is.
Ephesians 5:23

I will reverence and honour my husband. I respect my husband. I am contented to live within the family's financial means. I prioritise what happens in the bedroom. I build my husband up with my positive, life-creating words, both in public and in private. I laugh with my husband and not at him. I trust my husband's judgment. I will not mother my husband, I will be his wife, his friend, and his lover. I have the back of my husband. I will acknowledge the leadership of my husband and discourages passivity. I accept my husband is human and imperfect. I will focus on what my husband does very well and encourage more to bring out the best in him. I will not belittle my husband to others or make him feel unnecessary or incapable.
Ephesians 5:33

The life of my husband has been just and honest; he has integrity, so his life cannot be spoken against. He is faithful to me. He has self-control. He lives wisely and has a very good reputation. He enjoys having guests at our house and he is a good teacher. My husband is not a drunkard, he is not violent, but soft and gentle and very decisive. He is peace loving and not a lover of money. He respects and understands me. I will give him all the support he needs.
1 Timothy 3:2-5

I will forever be faithful and truthful to my husband because I have virtues and the fear of the Lord.
Proverbs 31

It is not good for my husband to be alone, so God made me a perfect companion for him, so I must improve my life and manner to be that companion that is meant for my husband.
Genesis 2:18

My husband has given the authority of his body to me, for he is the head of the body and I am the body. Without the head, the body cannot function and where the head is available it nourishes the body. I will support the head and the head will think and produce good results that will nourish me, the body.
1 Corinthians 7:4

I will submit to my husband as unto the Lord, because God has ordained him a head over me and it is the will of God that I submit to him and love him for when I love him, he will love me back and never treat me harshly.
Colossians 3:19

I accept the authority of my husband since he gives honour to me his wife.
1 Peter 3:1, 7

The man who finds a wife has found a treasure and receives favour from the Lord. I am a wife; I am a treasure and my husband has found me and kept me as a treasure. With this, it is mandatory that he receives divine favour and wealth in his treasure. I command favour to fill the life of my husband. This is a covenant he has with the Lord for he has fulfilled his part by finding me. I command you Favour and Treasure to find every aspect of my husband's life. He will be blessed in the city and in the field; he will be blessed in business and in his job; whatever he lays his hands upon will be blessed! This is my blessed heritage as a daughter of Zion.
Proverbs 18:22

I am a capable, intelligent, and vitreous woman. I am more precious than jewels and my value is far above rubies or pearls. My husband's heart trusts me confidently and relies on and believes in me securely so that we will not lack any good thing.

I am comforted, encourage and do my husband only good as long as he lives. I seek out wool and flax and works with willing hands to develop it. I am like the merchant ships loaded with foodstuffs; I bring my household food from a far country.

I rise while it is still night and gets Spiritual food for the household and assigns our children their tasks. I spend quality time praying for my family.

I consider a new field before I buy or accept it, expanding prudently and not courting neglect of my present duties by assuming other duties; with my savings of time and strength, I plant fruitful vines in our vineyard.

I gird myself with Spiritual, mental, and physical fitness for my God-given task and my hands are made strong and firm.
Proverbs 31:10-17

My husband safely entrusts his heart to me. His name is praised in the city gates and my name as well. I do him good all the days of his life. My children arise and call me blessed and so does my husband. I am clothed with strength and dignity. I do not worry about the future. My husband and I are one flesh. He loves me as himself. I honour and respect my husband. My husband loves me sacrificially, as Christ loves the church.
Father, I come boldly to your throne of grace to lift my husband before you in prayer. Thank you for blessing me with a good man; a man full of the Holy Ghost and faith. A man who loves you with all his heart, soul, strength, and might; a man who seeks to know you more and more each day; a man rooted and grounded in the Kingdom of God and dedicated to pleasing you in every area of his life - spirit, soul, and body. He is first faithful to you, and afterwards faithful to me and his family.
Father, I proclaim that my husband is a godly man of valour, who rises early in the morning to seek your face on behalf of his family. I pray that you would keep his heart and allow nothing to come between us or separate his love from you or his family. Give my husband time to know his family, the strength to lead his family, and a passion to manage his home. Bless him in every area of his life and show him daily how to honour you in his attitude and spirit.
Make my husband a wise steward of our finances and all that we have, remembering that all things are yours and entrusted to us for your purposes. My husband has been a just man who walks in his integrity, and his children are blessed after him. Thank you for protecting him physically, mentally, and spiritually; and for giving him the desire to teach and model a godly lifestyle for his family. Thank you for daily instructing him and teaching him in the way he should go, and for giving him peace in every circumstance he meets. He is a good man who leaves an inheritance to his children and his children's children.
Father, I declare that my husband walks in uprightness at all times. He loves what is good, and hates what is evil. He guards his heart with all diligence, knowing that out of it flows the very issues of life. He is swift to hear, slow to speak, and slow to become angry. He meditates on your word day and night and observes to do all that is written therein. He shall, therefore, have good success in all he does, for you Lord, shall make his way prosperous.
According to your word, a good man obtains favour from the Lord, but a man of wicked devices will be condemned. In the name of Jesus, I, therefore, say that my husband has the favour of the Lord upon his life, and goodness and mercy are following him daily. I cancel any wicked devices conspired against him in the name of Jesus, and I render them inoperative and ineffective. My husband is blessed when he comes in and blessed when he goes out. Everything he sets his hands to do shall prosper and succeed, and the good work you have begun in him you shall also complete; for the steps of a righteous man are ordered by you, my Lord, and my God. No weapon that is formed against my husband shall be able to prosper, and any tongue that rises up against him in judgment, you, Lord shall condemn in the name of Jesus.
Dear Lord and Father, thank you for surrounding my husband with godly individuals who are stepping stones to him becoming a better husband, father, brother, son, and a servant. Thank you for helping him to develop strong relationships with other godly men who will provoke him to grow to higher levels in Christ Jesus. He shall prove all things and hold Fast to that which is good.
Separate my husband from all ungodly influences, pressures, and manipulation; both inside and outside of the church. I now release the fire of God to burn out all ungodly ties and connections with any former relationships; whether spiritual, mental, emotional, physical, or carnal. I take authority over his thought life, and I bind all spirits of hurt, rejection, fear, anger, depression, discouragement, oppression, insecurity, and unforgiveness, in the name of Jesus. I decree that my husband is a man after Your own heart Father—a man who seeks to please You in everything he does.
Now Father, make me my husband's helpmeet and soul mate for life. Help him to know how much I love him. Help him to know that I am his companion, supporter, defender, lover, and friend. I shall cover him daily with my prayers, and I shall create a peaceful, non-threatening and enjoyable dwelling place for him to come home to. Teach me, Father, how to take good care of myself and stay attractive to my husband. Help me to never take him for granted, nor neglect him in any way. Help me to avail myself to my husband spiritually, emotionally, and physically. Grow me into a creative and confident woman who is rich in mind, soul, and spirit, and make me the kind of woman he can be proud to call his wife.
Father, thank you for the gift I have in my husband. I shall love him, support him, respect him, encourage him, fulfil him, and enjoy him all the days of my life, and we shall dwell together in love and unity, and live a long, happy, healthy, prosperous, safe, and godly life together. This is the confidence that I have that when I pray to you Lord, you hear me and grant my request. Thank you for answering my prayers in Jesus name. Amen.